WHAT IS MYCELLO?
It is a unique cello that combines traditional and modern elements in a futuristic look and 3D printing technology.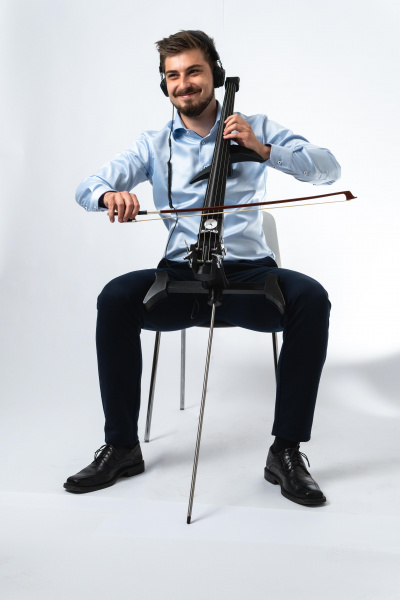 HOW WAS MYCELLO CREATED?
In the spring of 2020, when the COVID-19 pandemic began in the Czech Republic, we were thrilled to see Prusa Research, under the direction of Josef Prusa, handing out printed face shields.
We ordered a 3D printer to get involved. By the time the printer arrived, 6 weeks had passed and the first wave of the pandemic was over.
During that time, we became interested in everything about 3D printing and discovered that musical instruments could be printed as well. Ondra is a cellist, he lives in an apartment and his neighbors complain that he plays too loud. He was already looking for a quiet (electric) cello. And now it was within reach. He could make one himself. But it had to be designed and modelled first. The idea caught the eye of Honza, his colleague at the company, who took charge of the project. And Honza has a 3D designer in the family, Zdeněk. That's how it all started.
WHAT WAS THE HARDEST PART?
Of course to remake the wooden instrument. Get to grips with the construction, printing, building, tuning the sound characteristics...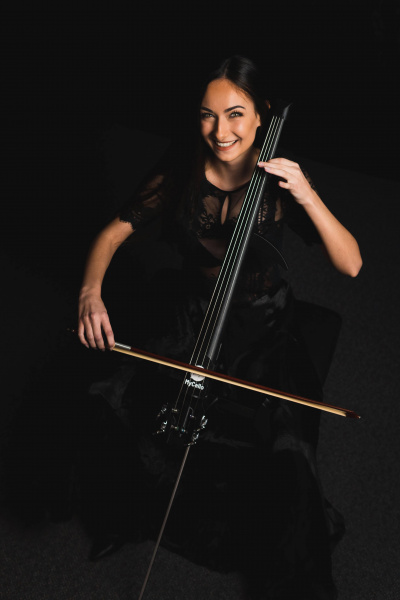 Why is it called MyCello?
MyCello symbolizes the possibility of a customized cello using 3D printing technology. Every cellist knows his cello by feel. For another cello, it is very important that it "fits his hand". There are certain standards for wooden cellos, but many instruments have variations. And we can pick up on these to make sure that the cello fits exactly according to the cellist's habits. In addition, every MyCello is also original in terms of shape, colour, choice of material... In the age of mass production, it's great to have your own unique cello that no one else has.

AND HOW DOES IT PLAY?
You will be surprised! You have to hear it with your own ears!

HOW IS MYCELLO DIFFERENT (BETTER)?
Wooden stringed instruments as we know them have been with us for 400 years and will continue to be, we are not trying to replace them. The sound of the cello is beautiful, unmistakable. Every cellist loves his instrument. But hand on heart, it's not suitable for the apartment or the festival stage. It's too loud in an apartment, but it's not audible at a festival. And that's where the (r)evolution came in, electric instruments. Alone they play quietly, plugged into speakers they can bring the house down.
LET'S INTRODUCE THE INDIVIDUAL ADVANTAGES:
Silent electric cello exactly according to your wishes and for a great price.
Price of a cello? MyCello is affordable.
Disturbing the neighbors? MyCello can be very quiet.
Your back hurts? MyCello is a lot lighter.
Where to put it? MyCello is easier to store while missing nothing essential.
Drowned out on the podium? MyCello contains a pickup with an amplifier.
MyCello has features you will fall in love with (holder for phone, pencil, bow, eraser)

WHAT'S THE BEST THING ABOUT MYCELLO?
MyCello can be customized to fit your existing cello!
MyCello, its concept, is a masterpiece, some of the solutions are truly ingenious. Soon you will think of another tweak, you will want your original shape, you will need to fix something... You can easily replace any part with a more perfect one. You can't do that so easily with a wooden cello. MyCello will evolve with you, keeping up with the times.
PATENTS AND TRADEMARK REGISTRATIONS