Přerov (CZ) - Third place at the Creative Business Cup (CBC) international business competition in Copenhagen a year ago was an extraordinary experience for Jan Tobolík, CEO of the MyCello project and one of its founders. The event was an excellent opportunity to network with consultants, investors and entrepreneurs, as well as to meet the other competitors and enjoy the competitive but friendly atmosphere. The moment when the judges announced their third place was unforgettable. In addition to the experience, Honza shared advice for aspiring entrepreneurs in the following interview.
Creative Business Cup will help with business development
Honza, it's been almost a year since MyCello won third place at Copenhagen's finals of the international Creative Business Cup (CBC) competition. How do you remember the competition?
Not only the organization of the event itself but also the quality of the competition projects were at a very high level, which makes us all the more pleased to win in such a competition. The atmosphere was absolutely amazing. Our significant advantage was that our instrument, MyCello, was interesting for the audience and listeners. After Ondra Kratochvíl (the second of the founders of the MyCello project, editor's note) performed with MyCello on stage, other people recognized us and took pictures with us. Even in the competitive atmosphere, the mood was amiable and relaxed. We really enjoyed our participation immensely, including the tour of beautiful Copenhagen. Another huge benefit was meeting and networking with the judges, primarily consultants, investors or entrepreneurs, after the competition.
What was your first thought when the judges announced that you were the third most creative startup in the world?
I couldn't believe it at first. Within moments, all the weight lifted off Ondra and me, and we enjoyed the moment to the fullest. The next photo shoot and media interest were charming, even as an introvert. At that moment, countless nights spent in the workshop, dozens of hours of fine-tuning details and endless testing, and preparing the actual presentations, business plans, calculations, documents, and materials were forgotten. That's when Ondra and I said it was worth it.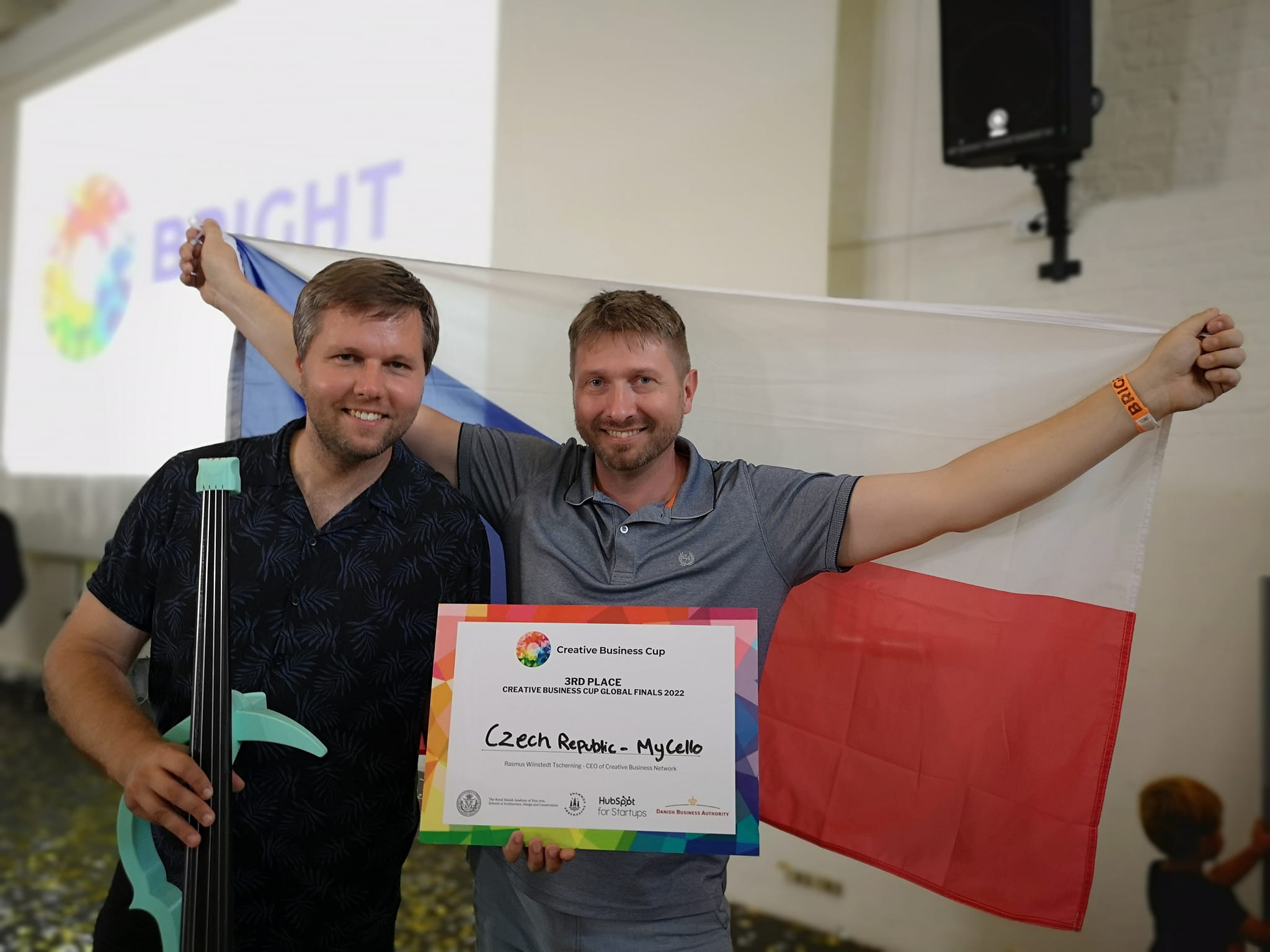 Your only limit is you
How has participating in the CBC helped you as an entrepreneur?
Even though we were rivals, all the contestants supported each other and admired each other's work. Innovative ideas, drive, diligence and often life stories. In such a team, you feel nothing is impossible, and the limits are only in your head. That's what I take away from my whole stay in Copenhagen.
Would you recommend participating in the competition with other startups and founders of innovative projects?
Absolutely. I advise them not to wait for the right moment when their strategy or product is 100% perfect. There will never be a right time. But a few days in Copenhagen will definitely move them up a few levels; they will gain valuable contacts and, most importantly, experience from an international competition that is non-transferable. Words can't describe it; you have to experience it.
How would you describe the competition in two words?
Game changer.
In business, you need to be able to adapt
In addition to MyCello, you run Sensio, a company that develops information software, so you have many years of experience in the business. What advice would you give to aspiring entrepreneurs?
One of the most important things I've learned in business is adaptability. As a startup, you will face many challenges and unexpected obstacles. The key to success is to be able to adapt when necessary. Build networking relationships, be bold, and reach out to other startups and industry experts for advice and help. Remember your mission and values. Keep in mind why you started and where you are headed. And don't be afraid to take risks and experiment.
On the other hand, where do you see yourself in five years with MyCello?
We plan to expand abroad, where the market for musical instruments is many times bigger than in the Czech Republic. We want to become a leading supplier of innovative musical instruments on a global scale, so we plan to cooperate with sizeable musical instrument retailers.
Quickly and briefly
What is the Creative Business Cup?
The Creative Business Cup is an international competition for entrepreneurs and startups in the creative industry, held annually since 2010.
Who can apply for the Creative Business Cup?
The Creative Business Cup is open to entrepreneurs and startups in creative industries such as design, fashion, architecture, music, gastronomy and more.

What can entrepreneurs gain from participating in the Creative Business Cup?
Participation in the Creative Business Cup can bring entrepreneurs prestige and publicity and the opportunity to gain financial support and investors, meet experts and mentors, and network with other entrepreneurs in the industry.

What is the application process for the Creative Business Cup?
Applying for the Creative Business Cup involves completing an online application form, providing information about your business and submitting the required documents. After submitting your application, your project will be reviewed, and you will be notified if you have advanced to the next round of the competition.
What are the famous startups that have succeeded in the Creative Business Cup competition?
Readmio, Snuggs, Lapee